September 2021
Climate Resilient Agriculture: To
double production for local markets
CRITERIA (110 participants)
•
KZN: 4

-6 Villages per year x 2
•
CRA learning group members already
implementing CA, intensive homestead food
production and livestock integration
•
Intention is to "double" production and
support and set up localised marketing
options
•
Learning group of ACTIVE farmers
•
Must have some access to water and labour
ACTIVITIES
•
Climate change analysis and choice of
CRA practices
•
Learning sessions in CRA practices
•
Farmer level experimentation with a
basket of options in
•
Intensive gardening – tunnels plus
•
Field cropping – conservation agriculture
and livestock integration
•
Small livestock

– broilers, layers, traditional
poultry
•
Marketing options and ideas to try out
Project Description
§
Minimal soil disturbance
- Intercropping
- Mixed cropping (multi-species)
- Crop rotation
§
Keep living roots in the soil
- Extension of season – late season
cover crops
§
Permanent organic soil cover
- Inclusion of cover crops
- Crop residues and mulching
- Fodder production, grazing of
Conservation Agriculture: Five principles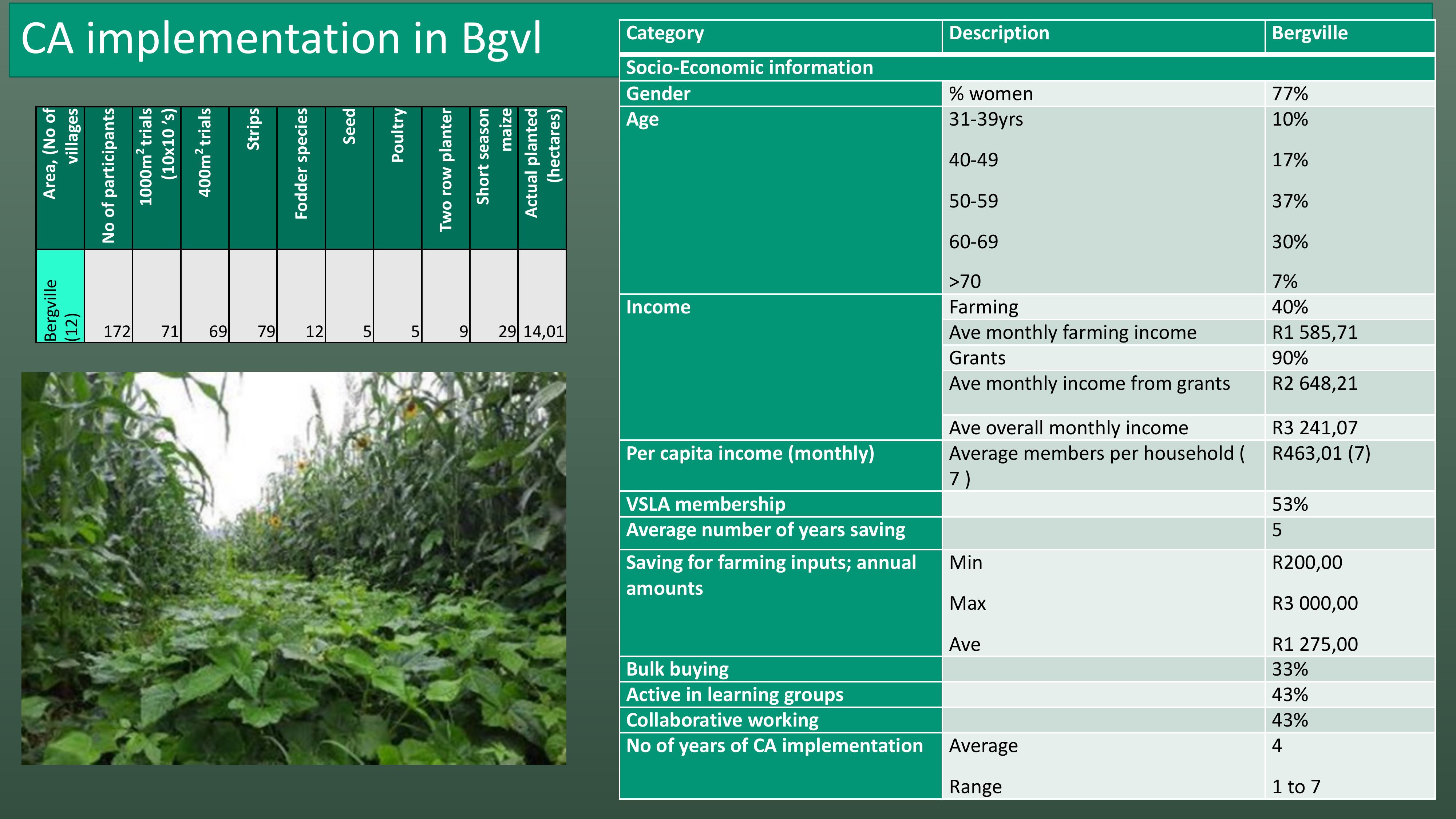 CA implementation in
Bgvl
585,71
Avemonthlyincome from grants
Per capita income (monthly)
Averagemembers per household(
7 )
Averagenumberofyearssaving
Saving for farming inputs; annual
amounts
R200,00
R3 000,00
R1 275,00
Active in learning groups
No of years of CA implementation
Actual planted
(hectares)
CA implementation in Bergville
–
Field cropping; CA.. Maize, beans, cowpeas, SCC, pumpkins,
gourds, potatoes.
–
Enough for household consumption (home milling), selling
surplus maize and beans in the community and at pension
points
–
Feeding of poultry (seed from sunflower, sun hemp, sorghum,
yellow maize) and livestock (fodder, stover, yellow maize)
–
Womenstartingtokeepandfeedlivestock
–
Major improvements in yields, reduced run-

off (~60%<
ploughed fields), less erosion, increased SOC (0,5t/ha/
yr
)
•
Agroecological practices
including;
composting, deep
and shallow trench beds,
mulching, mixed cropping,
natural pest and disease
control, crop diversification,
grey water management
•
Microclimate management;
shade cloth tunnels
•
Improved irrigation practices;
drip irrigation, irrigation
scheduling (chameleon
sensors)
Intensive homestead food production practices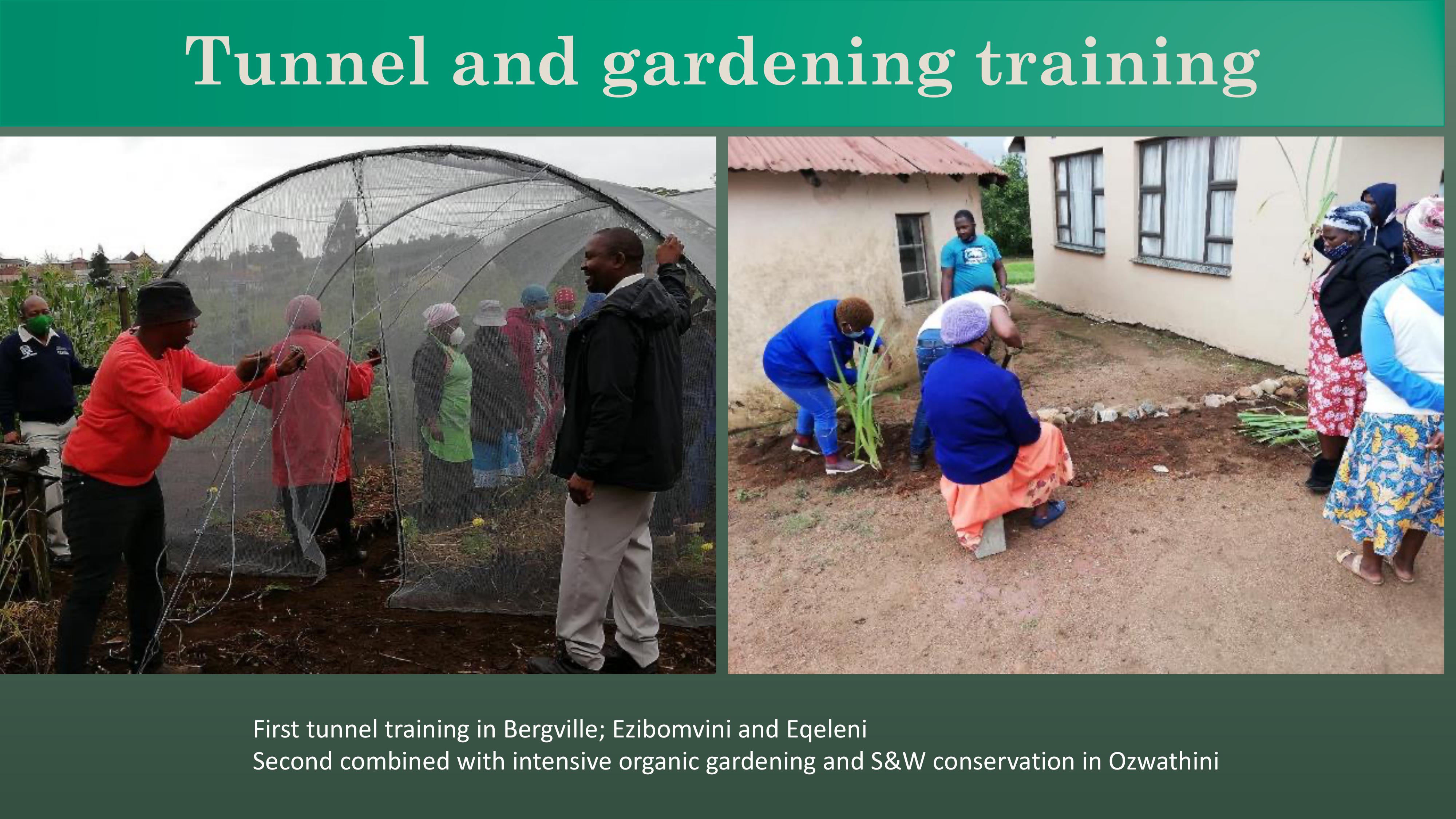 Tunnel and gardening training
First tunnel training in Bergville;
Ezibomvini and

Eqeleni
Second combined with intensive organic gardening and S&W conservation in
Ozwathini
Tunnels in Bergville
experimentation:
supplementation, nutrition,
and condition scoring
grass, lab-lab, cowpea, Teff
and maize stover
workshops and
implementation
Foddersupplementationandsmalllivestock
Foddersupplementation
PoultryProduction
Marketing
Bergville Emmaus marketing stall at Emmaus pension point
A range of products from around 33 farmers
Marketing cont.
Summary of market incomes for Bergville: April
Produce; in order of sales
Pork meat, dry beans, traditional mats, vegetables,
pumpkins, processed chilli, green maize, eggs
Vegetables, pork meat, dry beans, dry maize, sweet
potatoes, pumpkins, incema, broilers
Pork meat, broilers, vegetables, pinafores, dry beans,
dry maize, processed chilli, vegetables
Pork meat, vegetables, broilers, processed chilli, dry
beans
Note 1: Bergville vegetables include: Spinach, cabbage, mustard spinach, brinjals, tomatoes, onions, spring onions, green
peppers
Note 2: Bergville: Little to no sale of butternut, eggs, traditional craft, brooms
Marketing: sales to date
Unemployed. Woman headed
household, looking after 1 orphan.
•
0,14ha, mostly under CA; Maize,
beans, cowpeas, SCCs, potatoes,
pumpkins
•
Able to supply her own annual staples
and vegetables from her farming
•
Sale of crops in community, pension
points, selling of sweets and snacks at
schools and local loan shark.
•
Pigs (8); slaughters and sells locally.
Case study