SFIP: Conservation
Agriculture
Optimising the system for non
commercial and semi-commercial
smallholders
2015
•Farmers'Organisation
•
Appropriate agricultural practices
(technology and innovation)
–
Land preparation, planting, crop protection,
rotations and crop systems
•
Scale of farming operation
What is the smallholder system
Scale of farming operation
Non commercial smallholders
Semi commercial smallholders
Commercial smallholders in loose
value chains
For household
Minimal inputs bought
For household and some selling which
supplements household income.
Minimal inputs bought
Consumption and sale in various
percentage mixes butmoving to more
sales.
Hand cultivation, animal traction
Animal traction, tractors
Farm productivity,
labour
fertilizers, herbicides, pesticides,
cover crop rotations
fertilizers, herbicides, pesticides, cover
crop rotations
fertilizers, herbicides, pesticides, cover
crop rotations
Access to improved
agricultural tech and
information
Hand planters,
Learning groups, working groups
Hand planters animal drawn
Learning groups, working groups
Animal drawn planters, two row
planters
Learning groups, working groups
Access to financial
services and local
organisation
SCGs, CIGs, formal loans and bank
accounts (group and individual
Bulk
Intercropping and close spacing
•
Pre-spray with post emergent
and contact herbicides (Round
Up and Gramoxone)
•
Close spacing of tramlines
•
One weeding is enough before
canopy cover is reached. Must
be early weeding: 2-3 weeks.
•
Cover is reached from 4-

5
weeks onwards.
PAN 6479 Dolichosintercrop
•
Even stand of maize, earlymaturing and thus tasselingalreadyend January
•
Dolichosprovides great cover and does not compete as mayhave been expected.
•
Planted using hand hoes

Mrs SimephiNkosi-Emmaus Jan
2015
PAN 53 intercrop with PAN 148 or Ukulinga
•
PAN 53

–

Not yet tassleing-medium season well adapted to Bergville conditions
•
PAN 148: good cover less dense -
•
Ukulinga: A bit more rust more semi determinate

–

more volume
Mrs SimephiNkosi-Emmaus Jan 2015
PAN 6479 and Cowpea intercrop
show visible positive
effect on size and
colour of maize in the
intercrop
participants opted to
grow cowpeas again as
they do not eat it. A few
people like the
cowpeas and know it
as fast cooking and
good for making soup.
GM Maize
•
GM Round UP ready seed planted in a trial around 50 m away form other plantings and in an area
of dense planting of maize 500m-1km separation distance not adhered to. Pollen likely to interfere
with traditional and more local varieties of seed kept
•
Spray Round up before planting and around 6-8weeks
after planting
•
Spacing 50xmx1m single crop.
•
Soil is not covered. Further weeding and spraying of
herbicide is required
–
but facilitated through Round
Up ready seed.
Mrs SimephiNkosi-Emmaus Jan 2015
Border King (OPV) with Ukulinga
•
Border King more variable in stand and longer
season than the hybrids used.
Mrs KeshiweCebekhuluEmmaus Jan 2015
–Left: PAN53

–

Right
:Border King
Border King (OPV) with Ukulinga
•
Also small incidence of leaf diseases not noted in hybrids

–
•
Gray leafspot(Cercosporazeaemaydis) and Eyespot
(Kabariellazeae) noticed
Pests
•
CMR beetles very common also finding hosts in the grasses
close by. Spraying with DecisForte helps
•
Stalk borer load much more severe this season; Especially in
early planted maize Stalk borer granules used asDecisForte
had little lasting effect
•
Actual maize yields were
small due to small plots of land
being cultivated. The average total
plot size planted is around 0,25ha
and the actual yield average is
around 233,3kg of grain (Range:
86kg-879kg).
replacement value of this amount
of grain is around R1 600,00. This
would be enough maizemeal for a
family of around 5 people for 4
months and counts as a significant
improvement in household food
security.
involved in bean production as an
enterprise. Of those involved 50%
managed to produce both for
home consumption and make an
income of between R500-R3000.
There is a good local market for
beans and this activity is worth
promoting for both income and
nutrition stability and
•
Around 73% of active people consider
maize production as their primary
agricultural enterprise. People's want to
be able to also make an income from
maize production, over and above their
food production needs.
•
The per hectare yield of maize is
comparable to commercial yields (for the
CA participants)at 4-8tons/ha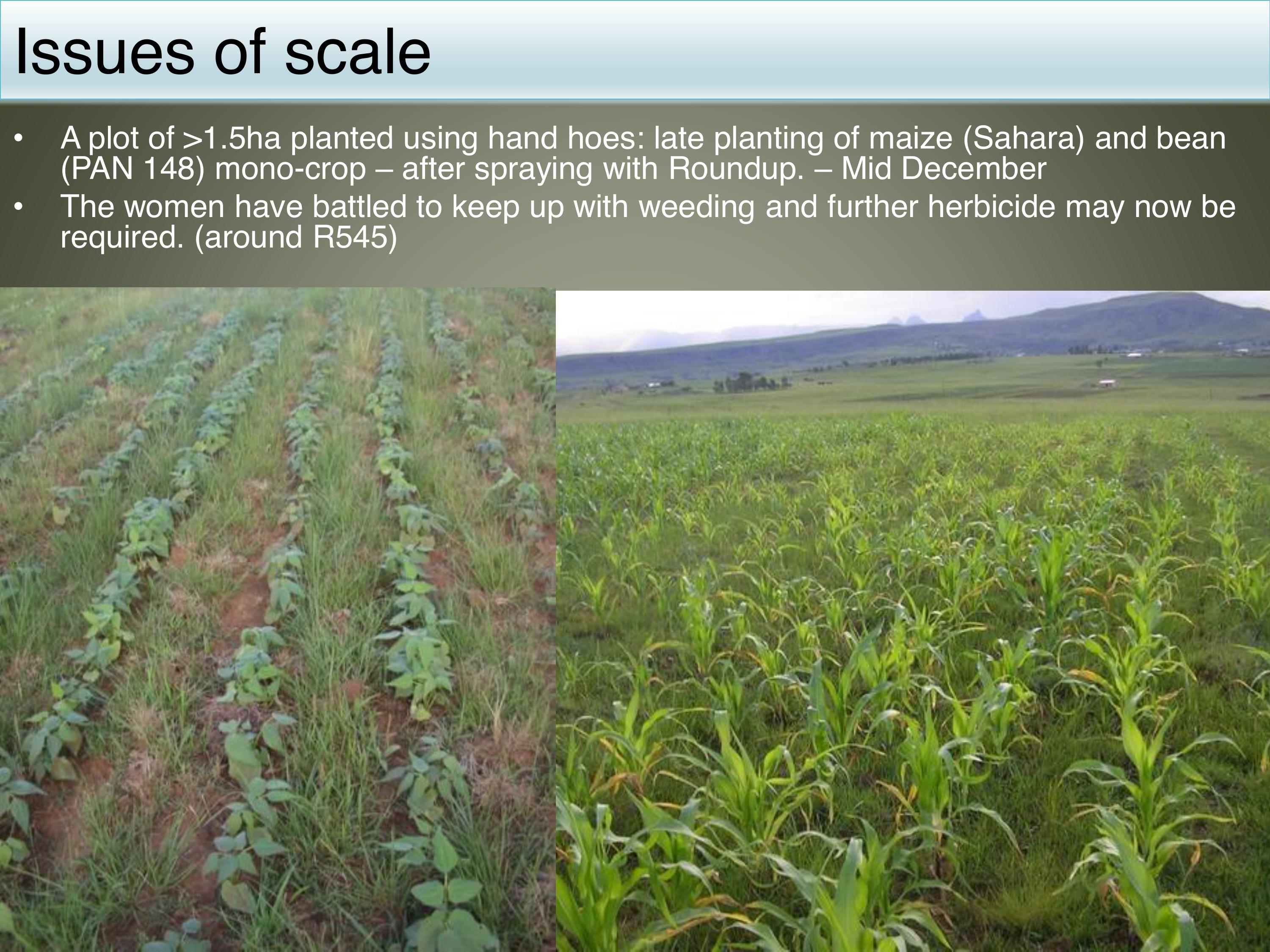 Issues of scale
•
A plot of >1.5ha planted using hand hoes: late planting of maize (Sahara) and bean
(PAN 148) mono-crop
–
after spraying with Roundup.
–
Mid December
•
The women have battled to keep up with weeding and further herbicide may nowbe
required. (around R545)
Issues of scale; Appropriate interventions