GRAIN-SA SMALLHOLDER FARMER
INNOVATION PROGRAMME
Optimising the Conservation Agriculture
system for non- commercial and semi-
commercial smallholders
February 2017
Erna Kruger, MazwiDlamini, Sylvester Selala
,

Thabani Madondo,Phumzile Ngcobo
New staff member: Temakholo Mathebula
Interns: KhethiweMthethwa
,

Nonkhanyiso Zondiand SandileMadlala
•
18 villages, 7 Savings and credit
groups, 10 Local facilitators,2
farmer centres
•
Matatiele; 4 villages, 3 savings and
credit groups, 1 Local facilitator
•
Ixopo: 4 villages, 4 Local facilitators
•
Creighton and Umzimkhulu
•
Nkandla, Cornfields, Emhlopeni
New study
area: EC and
Southern KZN-
70
Smallholders-CA study areas and team
New study
area: KZN
Study area:
•
Adaptive research into CA processes appropriate for smallholderfarmers:
looking at the
whole value chain

; inputs, appropriate tools and equipment,
different production options, storage options, milling, fodder etc
•
Partnership: MDF, KZN DARD, Lima RDF, SiyazisizaTrust,KwaNalu

,

StratAct

,
Ubuhlebezwe and other Municipalities, LandCare
…….
•
Farmer experimentation linked to larger learning groups

using the
Farmer Field School approach.
People work together in teams, belong to
savings groups, do bulk buying and support each other with food and
marketing
•
Horizontal scaling model

starting with a nodal village in each area and
expanding within and between villages:
•
2013: 3 Villages EC and 3 in Bergville (total trial participants: 50)
•
2014: 7 villages EC, 9 villages Bergville (Total trial participants: 100)
•
2015: 8 villages EC, 10 Bergville, 2 Nkandla (total trial participants: 210)
•
2016: 12 Villages EC-SKZN; 4 Midlands, 17 Bergville (total participants:
350)
•
Farmer volunteers, local facilitators, farmer centres (for each node
surrounded by 3-5 villages close by for input and equipment provision as
well as production advice)
Description of Model and Process
Farmer level experimentation
•
Year 1: Predefined with the research team:
–
Choice of planting method; hand hoes, hand planters, animal
drawn planters
•
Year 2: Choices and options within the same overall design:
–
Different varieties maize (white yellow, OPV, hybrid)
–
Different varieties and types of legumes
–
Manure and fertilizer combinations
–
Targeted fertility regimes and pest control measures
•
Year 3 +: Own design of experiments by participants :
–
Intercropping

vs

crop rotation options
–
Summer and winter cover crops
–
Different herbicide and pesticide spray regimes
–
Different planting times
–
As well as options for year 2.
Incremental change in yr 1,2,3
•
Average Maize price 2017:
R2 500/ton
3,9 t/ha
beans; R8 000/ton
•
Average yield 0,5-1,75t/ha
Costs of inputs
What does this
mean??
CONSERVATION AGRICULTURE PLOTS, KZN 2016
We need more
than 4 tons/ha
maize to make a
profit
•
Biggest cost is fertilizer….Even when micro

-dosing
–
Need ways to reduce fertilizer needs
•
The next cost is seed (Here Hybrid, plus legume)
–
Carefully weigh up different seed types against other costs and yields.
•
Labour costs for weeding; ~R250/0,1ha (R50pppd x 5days), ploughing
~R500/0,1ha
–
Compare these prices (herbicides and pesticides)with ploughing and labour for
weeding
Cost summaries; How to deal with rising costs
Not ploughing
saves a lot of
money,
Seed costs
need to be
weighed
against yield
increase
Reduce
fertilizer and
chemical use
to a minimum
Ways to
improve soil
health
disturbance
plot with developing
cover
plot with no soil cover
Conservation Agriculture: All three principles
•
A mix of systems; household, larger
fields
•
OPV, hybrid and GM all being
•
Injudicious use of herbicides
Southern KZN
We like the OPVs and hybrids because the
yields are similar to GM and the seed is a lot
cheaper. It is also better for eating and local
processing.
Intercropping is good as it increases the
vigour of the maize and provides and
alternative income stream
•
Now many smallholders involved
•
Working with Local Facilitators and
Farmer Centres are important
•
Some participants 4 years under CA
Bergville KZN
We prefer to do crop rotation as the
intercrop plots are difficult to weed and the
bean yields are lower. Cowpeas are not
generally preferred. The cover crops are
great for soil health, but still struggling to
keep seed. Growing separate plots for this
now.
Potential profit (at
12,5% mark up)
2x50kg 3:2:1,
5x50kg PAN 413
•
3-4 years: Reduced need for herbicide
•
Increased organic matter, reduced fertilizer
requirements
•
Increased yields and diversity
Bergville Continued
Mphumelele Hlongwane-
Ezibomvini
Far left: the run off plot
in Phumelele
(3 years under CA)and
Left: The run off from
the plot in the bucket.
Runoff is only 42mm
(2016/12/07) and
water is almost
perfectly clear.
Far left: The run off plot
in Phumelele
Hlongwane's control
plot- ploughed.
Left: the run off from
the control plot in the
bucket. Runoff is
195mm (2016/12/07)
and water is quite
muddy with substantial
sediments
Phumelele
showing where soil
samples were
collected .
Soil health tests for different practices
•
The veld provides a good positive benchmark for soil health scores
•
The maize CA control plot has a higher score than the Maize CA trial plot.
•
The CA plots with maize and maize and legume intercrops provided for the highest N reserve
values, meaning that a balance between nitrogen utilised and nitrogen in reserve was created in
these plots.
•
The cover crop plots (Lab-Lab and summer cover crops) provided the most available nitrogen for
use by the following crop, but did not build nitrogen reservesin the soil to a significant extent.
Soil health tests for
different practices results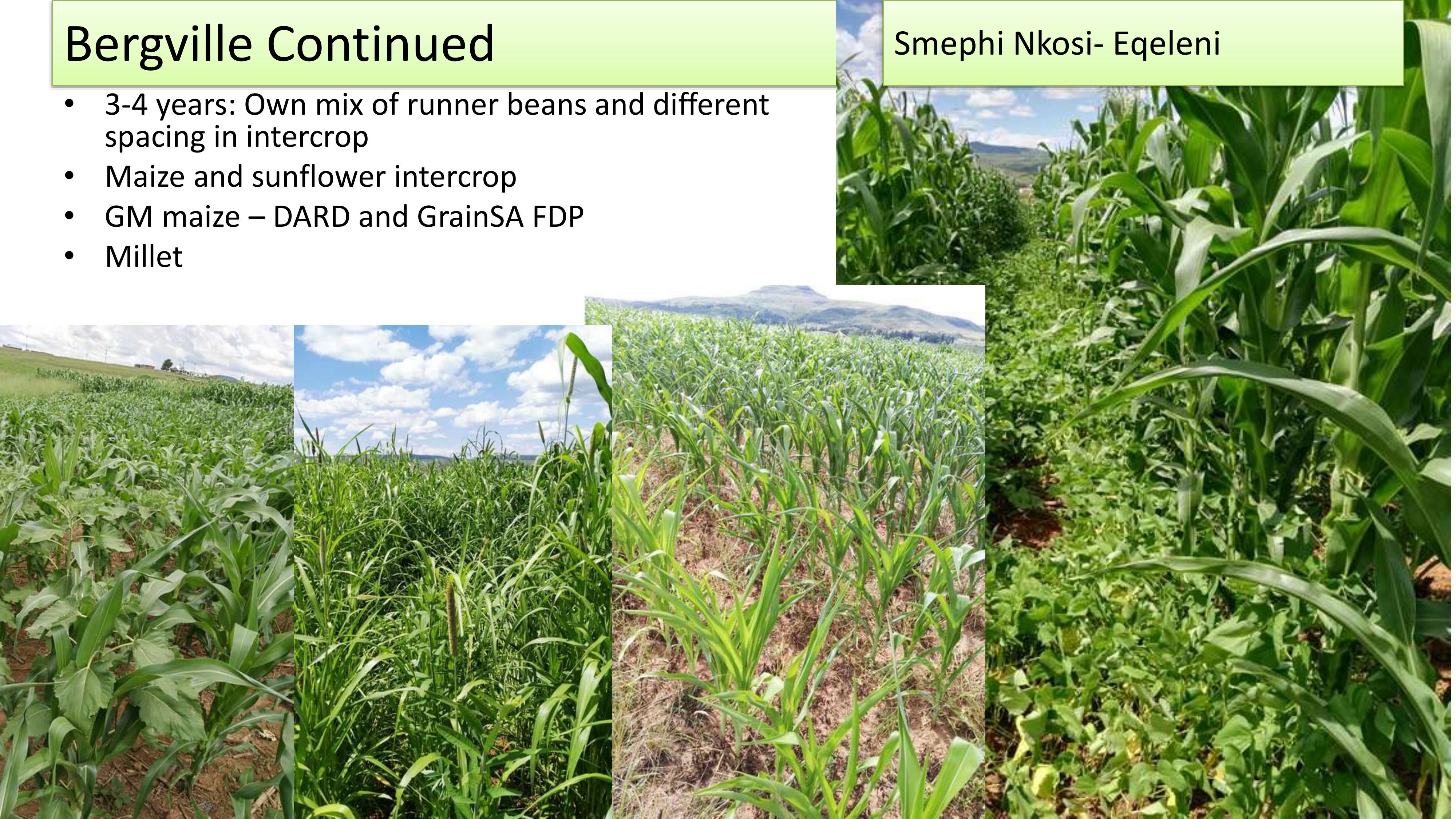 •
3-4 years: Own mix of runner beans and different
spacing in intercrop
•
Maize and sunflower intercrop
•
GM maize

–

DARD and GrainSA FDP
Bergville Continued
Smephi Nkosi-Eqeleni